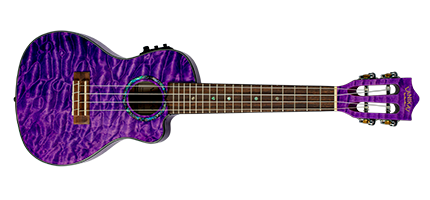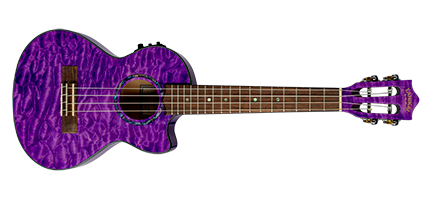 Mt. Juliet, TN – January 16, 2020 – Lanikai announced today the addition of two new Purple Stained Quilted Maple ukuleles to the existing line-up of Trans Black, Blue, Red or Natural. The new Trans Purple Concert and Tenor Cutaway Electric have a vibrant, yet sophisticated look enhancing any performer's appearance on stage.
The Quilted Maple ukuleles carry Premium quality components, that are standard for Lanikai, Graphtech NuBone XB® nut and saddle, wide comfortable neck profile, D'Addario® strings, Grover Machines and Fishman® pickup/tuner, foam case and a Limited-Lifetime Warranty.
From an intimate acoustic stage to a concert stage a Lanikai quilted maple series is an excellent choice. Built as a reliable go-to ukulele, a quilted maple Lanikai is favored by artists around the globe.  
"Our flagship Quilted Maple all electric series continues to be strongly preferred by professionals the world over. This year we are introducing a vibrant Trans Purple quilt concert and tenor to our Natural, Trans Red, Trans Blue and Trans Black models." stated Rock Clouser, Brand Manager for Lanikai Ukuleles