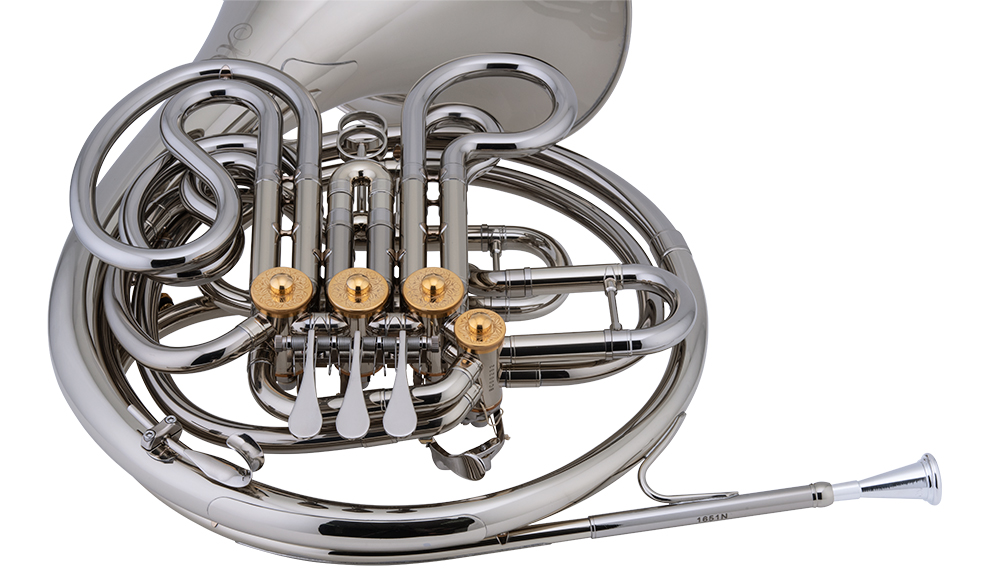 Mount Juliet, TN – May 6, 2022… KHS America, U.S distributor of XO Sophisticated Brass Instruments, is thrilled to announce the launch of our XO Kruspe Wrap Professional French Horns 1651, 1651D, 1651N, 1651ND.
"After the enthusiastic response to the introduction of our 1650 and 1650D Geyer wrap horns, we are proud to present our new Kruspe wrap models," says Mike Summers, Winds Brand Manager for KHS America. "Our goal is to provide the finest instruments to satisfy accomplished horn players in a wide variety of performance environments. By adding these new Kruspe models to the original Geyer version, we are confident that we've achieved that goal."
In keeping with the advancements of the 1650, these new models feature a one-piece leadpipe, multi-axis adjustment of the pinky finger hook to maximize player comfort, and refined string linkages combined with phosphor bronze bottom caps to ensure years of smooth, quiet valve action. Available models offer the option of lacquered brass or nickel-silver finishes with fixed or detachable bell. An XO lightweight Designer Case rounds out the package.
"Having an instrument like this where reliability in a school band setting was clearly a priority is very exciting," says Band Director Lisa Burden of Tullahoma (TN) High School. "For directors like myself who are also horn players, the details of how well this instrument plays and the ergonomics to be comfortable for students of all ages will shine through. I can't wait to have these in our band program."
With a total of six models now available, XO brass has the professional double horn that you've been waiting for!
For more information on our new XO double horns, please visit https://www.xobrass.com/us/instruments/french-horns
KHS America Media Contact
Mike Summers | mike.summers@khsmusic.com