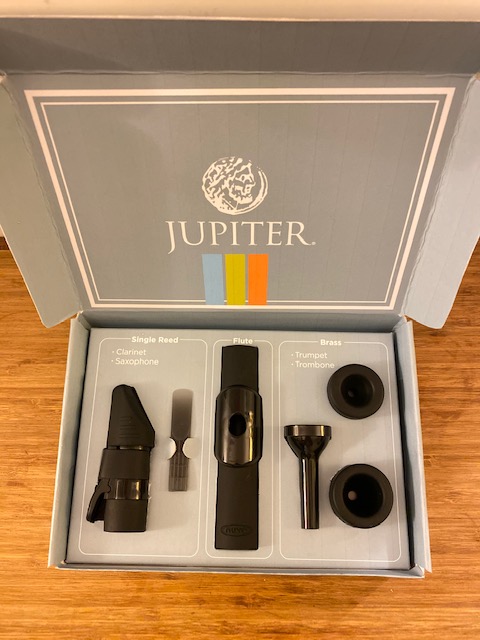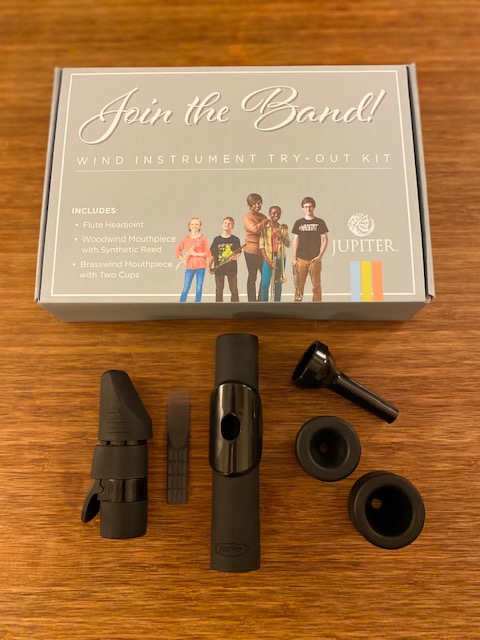 Mount Juliet TN – April 30, 2020 – KHS America is excited to announce the new and innovative Jupiter Join the Band! Wind Instrument Try-Out Kit. This durable, compact, and affordable trial pack is an ideal tool for introducing school band instrument mouthpieces to prospective incoming band students.
Including components to test for aptitude and gauge interest in flute, clarinet/saxophone, trumpet and trombone, the kit provides a convenient solution for many possible testing scenarios. KHS America Director of Education, Dr. Peter Loel Boonshaft states, "If there ever was a perfect time for a product like this, it is now! It's a wonderful way to help recruit students in a safe, easy to sanitize, and productive way. Whether used in a virtual environment or in person, it will greatly improve our ability to recruit students in the world we find ourselves!"
The components are easy to assemble and can be cleaned in a dishwasher or with soap and hot water. The convenience of the compact package is also being recognized as a benefit. "Packing, transport and set up for testing events at multiple elementary schools will be much easier!" notes Tonia Mathews, Band Director at Clint Small Middle School in Austin Texas, "I am very excited to use this product!"
The Wind Instrument Try-Out Kit will be available only from authorized Jupiter dealers. Order fulfillment will begin in mid-May.
For more information visit https://academicalliance.com/band-try-out-kit/
KHS America is dedicated to the enrichment of lives through music performance and education by providing high-quality musical instruments and services designed to support musicians, educators, and our retail partners. K.H.S. was established in 1930 and stands for Kong-Hsue-Sheh which translates to "Contribution to School and Society." The name expresses the organization's commitment to enhancing human quality of life and culture.