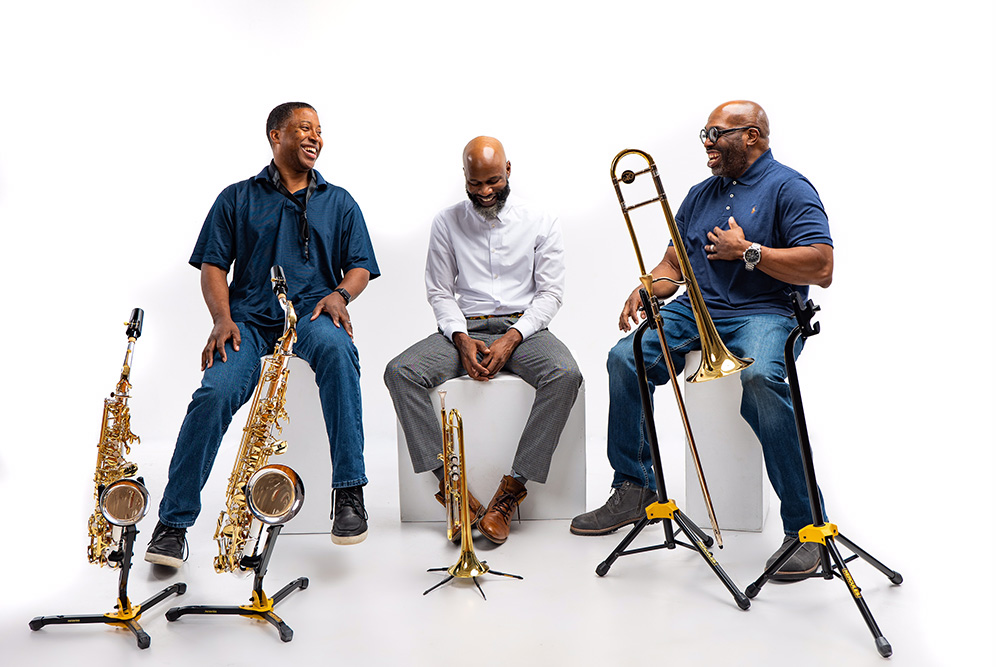 MT JULIET, TN, April 12, 2022… KHS America, Jupiter Winds and XO Brass are proud to announce partnership with Mo'Horns to perform exclusively on XO brass instruments and Jupiter saxophones. Mo'Horns, founded in 1991, includes trombonist Marvin Thompson (now playing an XO 1634LT), saxophone player James Cheeks (using Jupiter JAS1100SG alto and a JTS1100SG tenor), and trumpeter Theljon Allen (playing the XO 1600i). They serve as voting members of the Recording Academy and have appeared on multiple nominated and Grammy Award winning projects.
Rick DeJonge, XO Brass Artist and Educator Relations Manager expresses XO's enthusiasm for the pairing, "Mo'Horns is an exciting group for us to work with in further expanding our outreach to serve music education programs. Their energy and outstanding musicianship are both motivating and inspiring, demonstrating the excitement that winds can lend to contemporary music. We have a shared vision of the power of music to change lives and are thrilled to be working with such fantastic artists and clinicians."
Marvin Thompson echoes DeJonge's excitement for the project, "The KHS America Academic Alliance Program played a major role in our decision to sign with the company. Their commitment to Music Education is second to none. The fact that these instruments played incredibly well right out of the box was the cherry on top. The response and intonation from the very first note was inspiring. As professional musicians, the XO and Jupiter instruments allow us to take chances and stretch our music with confidence and ease."
"KHS America's dedication to constant innovation and improvements was a determining factor for us in entering this partnership. Mo'Horns looks forward to expanding our presentation of music and education throughout the world," adds James Cheeks.
For more information visit XO Brass and Jupiter Wind Instruments.
About Mo'Horns
Mo'Horns were recently seen on TBN's "K Love Fan Awards," backing Dante Bowe. In 2020 they performed on TV One's "Urban Honors Awards 2020" and were featured on the soundtrack for the film entitled, "The High Note", starring Tracey Ellis Ross. Other Mo'Horns appearances include The Tonight Show and the David Letterman Show. They have taken the stage at prestigious performance venues around the world, including the renowned John F. Kennedy Center for the Performing Arts, Blues Alley (Washington, D. C.), Madison Square Garden, The Royal Albert Hall (London, England) and many more.
KHS America Academic Alliance
KHS America's Academic Alliance program was launched in 2017 to develop and strengthen the important symbiotic relationship between School Music Programs, School Music Dealers, and the Instrument Manufacturer. Open to all K-12 public and private school band programs in the United States, membership in the Academic Alliance is free and offers a wide variety of benefits intended to enhance the student experience, promote program growth and bring attention to the great work being done by music educators.
Media Contact:
Kate Richardson | kate@richlynngroup.com
KHS America Contact: Mike Summers | mike.summers@khsmusic.com