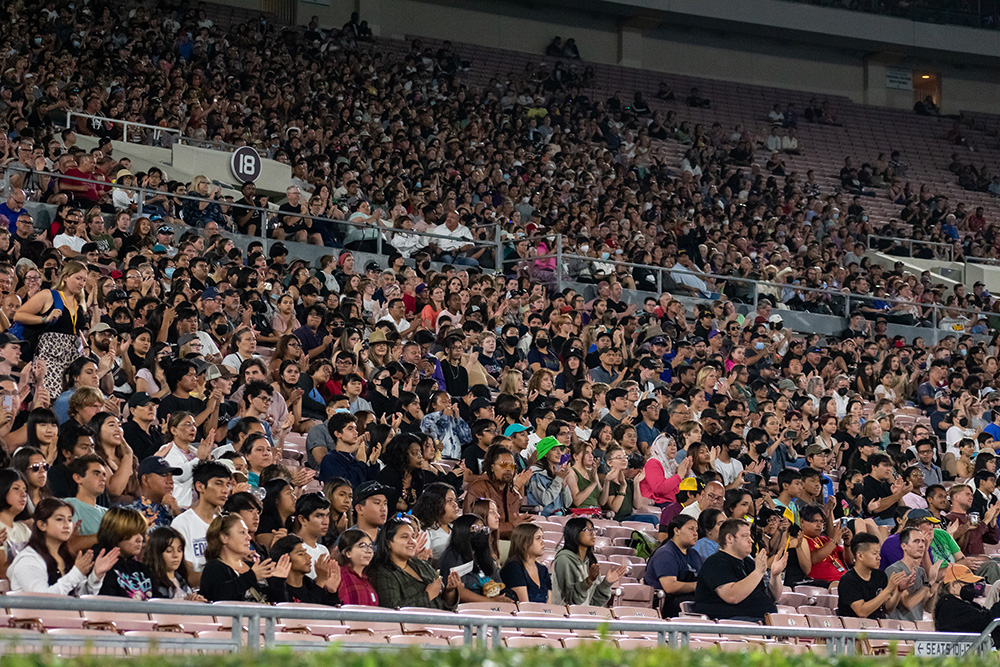 MT JULIET, TN, August 12, 2022…The KHS America Academic Alliance recently teamed up with two of their long-standing Drum Corps International partner ensembles to provide tickets for band students to attend DCI competitions in order to aid in school band program recruitment and retention. The Academic Alliance and its affiliated brands; Jupiter Winds, XO Brass, Mapex Drums and Majestic Percussion, supported this year's Drums Across the Desert, hosted by The Academy Drum and Bugle Corps, as Presenting Sponsor and Drum Corps at the Rose Bowl, hosted by Pacific Crest as an Outreach Program Sponsor and Resource Partner.
With a new initiative launched by The Academy called PROJECT: Grow Our Bands, Arizona Middle School and High School band students were able to purchase tickets to Drums Across the Desert on July 2nd at Sun Devil Stadium for a greatly reduced amount, and students of Title I schools were able to get a ticket to the show for free. In the past, the financial burden of attending the event has been the primary barrier for students. Through sponsorship from KHS, sixty bands were able to send over 1,700 students to Drums Across the Desert. "Almost half of our ensemble was able to attend the event because of the support provided by KHS America and The Academy, and for many this was their first drum corps show. This opportunity made a huge difference to the band students across our state as we continue to rebuild our programs, post-COVID" notes Jennifer Howard, Director of Bands at Dobson High School and ABODA Vice President of High School Band Activities.
As an Outreach Program Sponsor and the Resource Partner for Drum Corps at the Rose Bowl on June 25th, KHS partnered with Pacific Crest to make it possible for 2800 students to attend Drum Corps at the Rose Bowl free of charge. "We are proud of how our Outreach Program helps to empower greater equity for high school band students in Southern California. Support from the KHS Academic Alliance means the world to us. They share our goal to inspire as many students as possible through the power of live performance" stated Stuart Pompel, CEO of Pacific Crest Youth Arts Organization.
With additional support local elected officials and other corporations, Pacific Crest is also able to further kindle interest through free online private music lessons and scholarships.
"There is no question that the DCI experience is life changing for the marching members, but we have also seen our DCI partners find increasingly innovative ways to support the greater music education community in their regions," states Chris Hankes, Director of Sales and Marketing Experience at KHS America. "With these events being used as vehicles to connect, motivate and inspire, we were excited to lend resources to their important efforts."
KHS America Academic Alliance
KHS America's Academic Alliance program was launched in 2017 to develop and strengthen the important symbiotic relationship between School Music Programs, School Music Dealers, and the Instrument Manufacturer. Open to all K-12 public and private school band programs in the United States, membership in the Academic Alliance is free and offers a wide variety of benefits intended to enhance the student experience, promote program growth and bring attention to the great work being done by music educators.