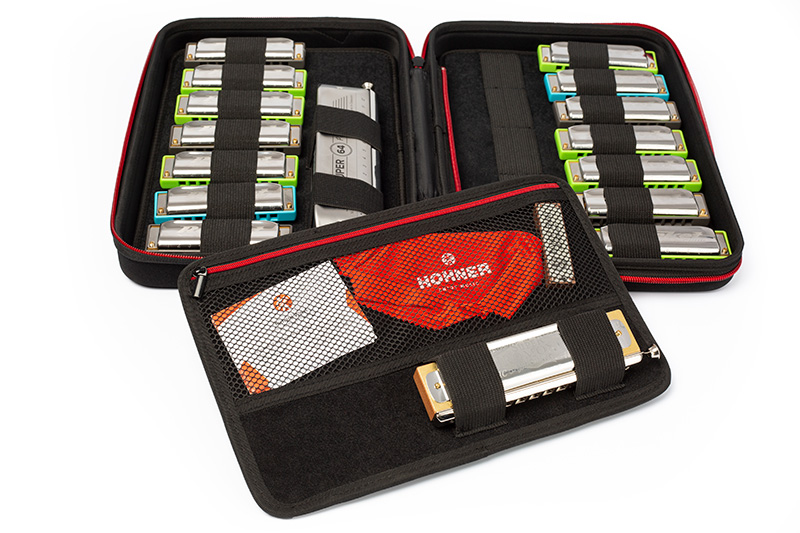 Hohner – Distributed by KHS America – Mount Juliet, TN – A brand distributed by KHS America announced this month the release of the new Flexcase series for trouble-free transportation. The Flexcase Series protects each harmonica individually, preventing scratch and dents, while permitting air to circulate througheach case. These new case options give players the most flexibility to configure their harmonica assortment for different performance scenarios, so yes you can bring them all to the gig.
The lineup in the series includes:
The Flexcase M holds up to 7 diatonic harmonicas, with flexible Velcro strips for a secure hold. Additional strips permit two FlexCase M cases to be joined together for double the storage and transport. Made out of reinforced water-resistant neoprene, keeps harmonicas protected from the elements.
The Flexcase L holds up to 14 diatonic harmonicas or five 12-hole chromatic harmonicas, or two 16-hole chromatic harmonicas, or any combination of the above plus a vocal microphone, numerous accessories and tools. A hard-shell, water-resistant case with tight, black-cloth cover and a rubber handle to securely carry your harmonicas anywhere.
The Flexcase XL holds up to 48 diatonic harmonicas, or 30 diatonic harmonicas plus two 12-hole chromatic harmonicas or one 16-hole chromatic harmonicas, and depending upon the combination above a vocal microphone, a bullet microphone with cable, plus numerous accessories and tools that fit into a detachable tool bag. A durable special hard foam in-lay holds harmonicas securely upright and won't deteriorate over time keeping harmonicas clean. A hard-shell water-resistant case with tight, black-cloth cover and a rubber hand handle and a removeable should strap, makes travel challenges for harmonica a thing of the past.