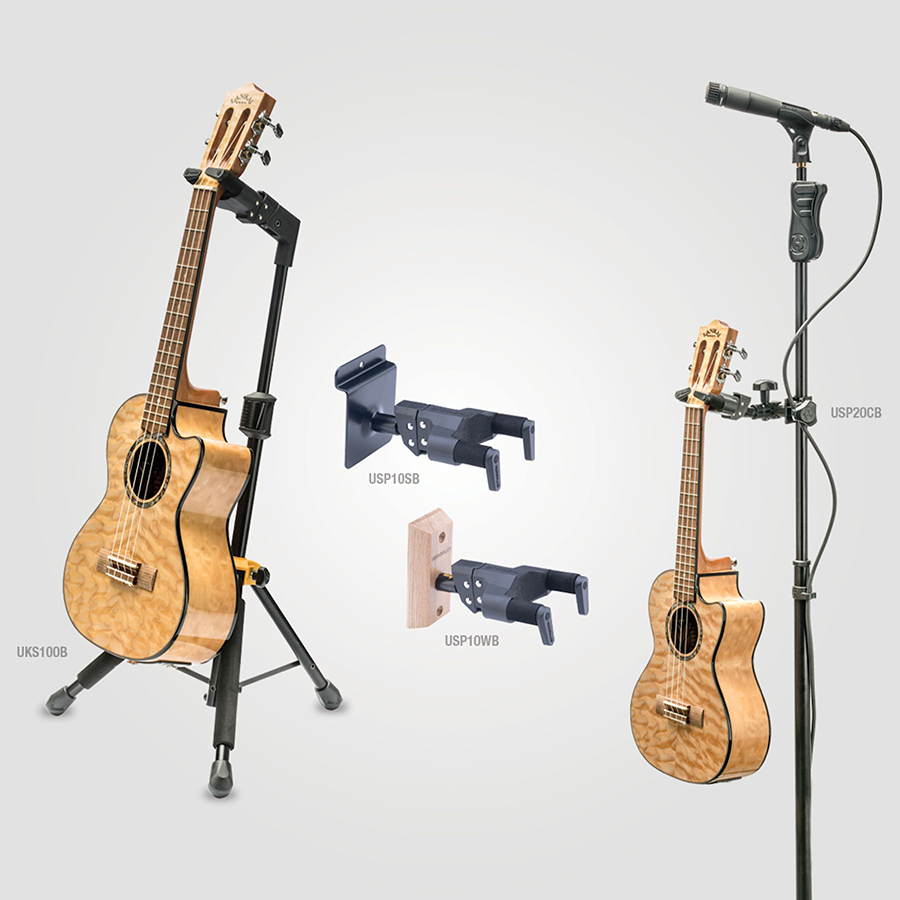 MT. JULIET, TN – November 1, 2019 – Hercules announced today a new ukulele stand series that you can trust to display and protect your prize ukuleles.
For decades, Hercules Stands has offered the most advanced protection for countless string instruments around the world with its innovative Auto Grip System (AGS) yoke. The AGS safely locks in, supports, and protects the instrument from damage that could otherwise happen by leaving an instrument unsecured.
THE AGS UKULELE SERIES
UKS100B UKE STAND
Features a folding yoke, Auto Grip System, and lightweight design, the UKS100B Ukulele Stand works perfectly on the road, at home, and in the studio. The Instant Height Adjustment Clutch with locking pin adjusts the stand height quickly, easily, and securely. The Specially Formulated Foam padding fully protects your instrument at all contact points, preserving even the finest of finishes.
USP10SB & USP10WB UKE HANGERS
The USP10SB and USP10WB Uke Hangers offer the ability to mount on a standard wall or slatwall for versatility of display, and with the added security of the Auto Grip System, you can rest assured that they hang secured.
USP20CB UKE CLAMP
The Uke Clamp allows you to utilize the hanger in a variety of different ways. In addition to mounting on a wall or slatwall, it clamps to a stand, desk, or other end surface so you can display and secure your ukuleles wherever you need!
| | | |
| --- | --- | --- |
| SKU |   | Description |
| UKS100B |   | Auto Grip Ukulele Stand with Foldable Design |
| USP10SB |   | Auto Grip Slatwall Ukulele Hanger, Short Arm |
| USP10WB |   | Auto Grip Wall Mount Ukulele Hanger with Wood Base, Short Arm |
| USP20CB |   | Auto Grip Ukulele Clamp Hanger |